Starting a business trip in Japan in the last evening of 20/5, Deputy Prime Minister Vu Van Ninh and the Government delegation attended the reception of the Council of People's diplomatic push Japan (FEC).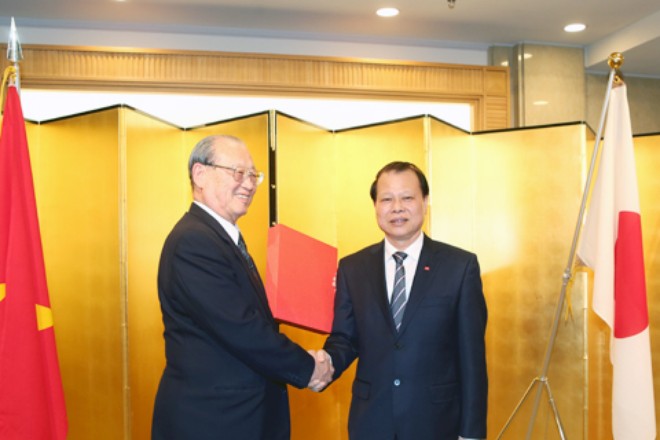 Also attending was Mr. Doan Xuan Hung, Ambassador Extraordinary and Plenipotentiary of Vietnam in Japan and the members of the FEC. Mr. Ken Matsuzawa, FEC chairman and members of the Council expressed his pleasure to welcome the delegation the work of the Government of Vietnam to attend the Asia Future Conference 21 th and working visit in Japan. The friendship between the FEC and Vietnam have been formed long ago and are always two sides to nurture, build increasingly tight, efficient, strengthen trust between the two countries. President FEC said Japanese Prime Minister Shinzo Abe is always interested in promoting public diplomacy between Japan and other countries, while Vietnam is someone you trust, commitment and contribution FEC is responsible for the development of this relationship.Mr. Ken Matsuzawa expressed his pleasure at the end of this year, the Southeast Asian countries will be formed ASEAN Economic Community (AEC) and hope Vietnam will continue to further develop and contribute to the prosperity and peace of the region and the world. Expressing thanks to sharing his appreciation Matsuzawa in Vietnam, Deputy Prime Minister Vu Van Ninh emphasized Vietnam relationship with Japan has flourished, becoming a strategic partner of several comprehensive. Many Japanese businesses are now operating effectively in Vietnam in the fields of clean energy, electronics, automotive industry, processing of agricultural and fisheries agricultural production.
Especially after the visit of Chairman President Truong Tan Sang arrived in Japan early last year, the two sides to strengthen cooperation for agricultural development to produce agricultural products with high quality and high economic value, the Deputy Prime Minister said. Deputy Minister Vu Van Ninh also suggested the Council to promote Japanese public diplomacy role, its credibility will boost Japanese firms investing in Vietnam and create more opportunities for the strata the two countries to meet, exchange culture and knowledge to contribute to deepen the strategic partnership of the two countries overall.